Midnight Pool Party – 'If You Were Mine (Baby)'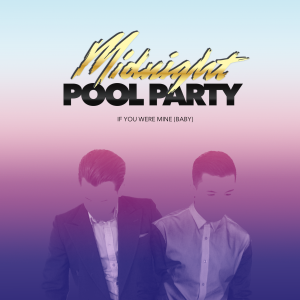 'If You Were Mine (Baby)' is the brand new single from Sydney's one and only disco-funk duo, Midnight Pool Party.
Originally conceived early in 2013, just around the time Breakbot's album By Your Side was dominating discothèques around the globe, 'If You Were Mine (Baby)' lay quietly, unfinished and out of sight until one day, Oliver Dela Cruz and Darren Morilla came home with a brand new Korg Piano, shining a whole new light on the track's ultimate direction.
As they bathed in the sounds of Breakbot, Prince, Miami Horror, Flight Facilities and Holy Ghost!, they unwittingly exposed themselves to a world of sounds and influences, giving life to their exciting new single, 'If You Were Mine (Baby).'
Featuring the masterful mixing skills of Australian producer Luke Godson (of Luke Million & The Swiss), Midnight Pool Party offer up an infectious onslaught of nostalgic, disco-funk bass lines, definitive piano grooves and those insatiable longing vocals. Through which, Midnight Pool Party tell a tale of an old-school romantic sensibility and the constant daydream of someone you wish you'd had.
'If You Were Mine (Baby)' will see an official release on September 9, through iTunes, along with two superb remixes from Brisbane producers Young Franco and cln.
.
SOCIAL LINKS
Facebook.com/MidnightPoolParty | SoundCloud.com/MidnightPoolParty
Twitter.com/MPP_PoolBoys | MidnightPoolParty.com
.